Solution Description
OPTEX REDSCAN series are LIDARs sensors providing extremely accurate and precise detection, indoor and outdoor, detecting different types of targets, vehicles, a person walking, running, crouching or even crawling or object being thrown (indoor). They create either a virtual wall, ideal to protect perimeter, building façade, museum walls, shelves; or a virtual plane, perfect for roof and ceiling protection. The RLS-2020 series provides up to 20x20m detection range, the RLS-3060V and RLS-50100V provide respectively up 30x60m and 50x100m. OPTEX® sensors are natively fully integrated with Hikvision NVR's (see models) in order to associate alarm triggers from REDSCAN and REDWALL devices with automated camera PTZ and recording. This simplifies the deployment and daily management of installations so that all events coming from the intruder, perimeter or video surveillance can be centralised easily.
Show More
User Benefits
Provides high performance, precise, versatile and customisable detection suited to many applications

Additional layer of security to perimeter fence/wall, detecting objects approaching or breeching it

Used as asset protection: discreet virtual wall protection for expensive or valuable goods on displays

Creates virtual perimeter or partition when a physical one is unpractical (water front, open architecture)

Detect people accessing flat roofs or entering buildings via the ceiling
Key Features
High detection resolution (0.25° per 75ms all models and 0.125° per 100ms for two models RLS-2020S and RLS-50100V)

Analyse the size, speed and distance of the moving objects

Auto area adjustment for outdoor models

4 independent detection zones for RLS-2020 series and 8 for RLS-3060V and RLS-50100V

Integrated panoramic camera and onboard event recording (RLS-3060V and RLS-50100V only)
Solution Architecture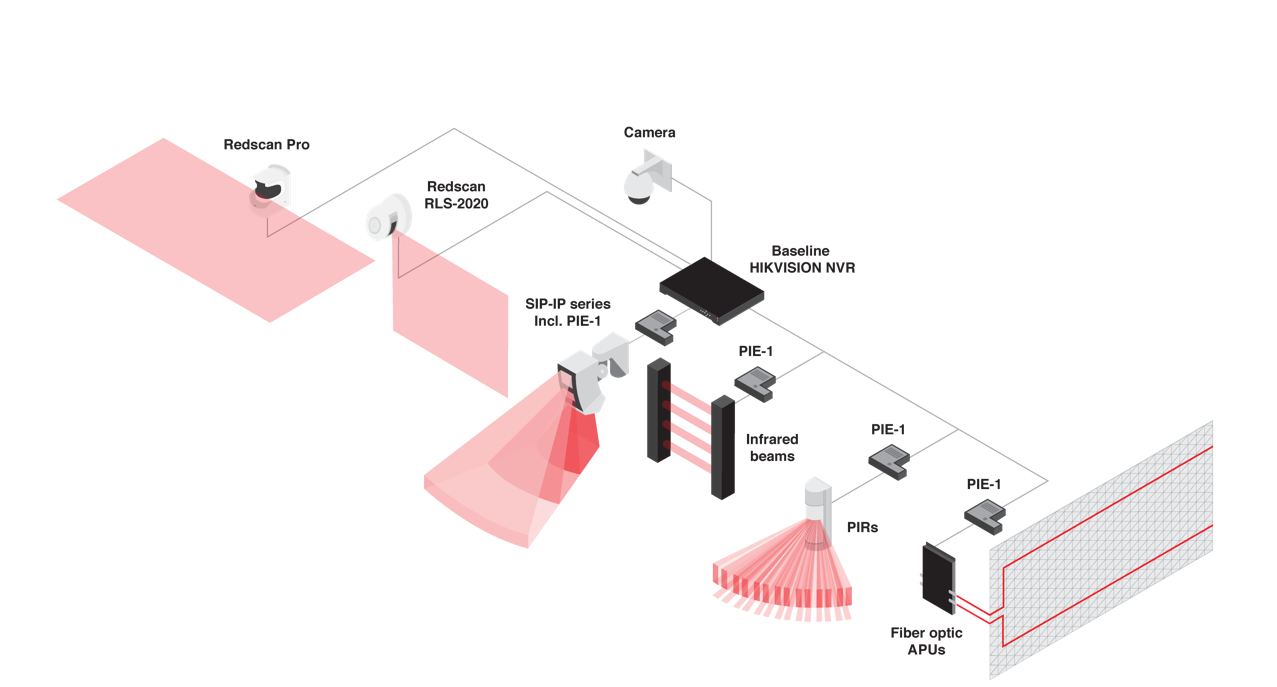 Reference Links
Solution Resources
Technical Details
Partner Product Name: REDSCAN LiDARs
Supported Firmware of Partner Products: REDSCAN Mini RLS-2020 vers 2.0 (onwards), REDSCAN Pro RLS-3060V and RLS-50100V vers 1.1.3 (onwards)
Supported Hikvision Product Models: Baseline NVR sofwtare version 4.2.1.00 (onwards)
Integration Protocol: Others
Availability
Regions: Africa, Asia, Europe, Middle East & North Africa
Languages: English, Chinese (Simplified), French, Italian, German, Hungarian, Spanish, Portuguese
About Optex
OPTEX®, founded in 1979 in Japan, is a leading sensor manufacturer providing high performance detection and video analytics systems for security, safety and business applications. For security applications, OPTEX offers a multi-layered approach to intrusion detection protecting the perimeter, infield, building, roofs, and critical assets using a range of sensing technologies including passive and active infrared, LiDAR and fibre optics. Unaffected by variable lighting and most weather conditions, OPTEX sensors provide extremely reliable detection, designed to integrate easily with any security system.