Solution Description
CUSTOMER PAIN POINTS
Customer uses multiple brands of CCTV systems across their premises. Video surveillance is highly manual and operators have to monitor multiple individual video management systems concurrently. Customer hopes to consolidate all video management systems under one central system with video analytic capabilities to optimize security manpower.

OUR SOLUTION
NUCLEUS is a unified 3D management system for effective visualization, consolidation and convergence of operational systems with 3D building model databases to provide comprehensive situation awareness to on-site managers. NUCLEUS provides customers with a comprehensive 3D visualization of the premises infrastructures modeled after their actual physical layouts (to scale), capturing both exteriors and interiors of all buildings and structures and all camera positions. NUCLEUS integrates with the central video management system to provide live video feeds and alarms from the video analytics system. Beyond security applications, NUCLUES integrates with other systems, including but not limited to, building management, communications, environmental, IT and resource management.

MARKET DIFFERENTIATION
NUCLEUS unified 3D management system offers a comprehensive 3D visualization of the premises, while its open platform allows broad integration with other systems, unifying operational systems so that all monitoring can be done from a single pane of glass. NUCLEUS also comes with an SOP Manager which can be activated to manage any alarm triggered.
ROLE OF HIKVISION
Hikvision acts as the central video management system, integrating all new and existing video management systems installed in the customer's premise. Hikvision also provides the video analytics system which supports the following use cases:
• Perimeter/Line Intrusion
• Suspicious Loitering
• Detection of Unattended Baggage
• Illegal Vehicular Parking/Traffic Flow Management
• Crowd Management
• Face Recognition
User Benefits
Comprehensive 3D visualization of premises

Unified, integrated system

Centralized alarm management

Guided incident / scenario management

Optimized guard tour
Key Features
Centralized video management system with video analytics capabilities.

Centralized alarm management system.

SOP scenario management system that implements business security processes through automatic workflows and visual guidance.

Incident reporter module that allows anyone on the premises to report incidents via mobile device.

Simulated virtual patrol routes created by projecting the sequence of video feeds from the identified cameras.
Solution Architecture
With integration, end users can connect, view and control cameras, NVRs and alarm panels in NUCLEUS via HikCentral. Multiple functions, such as live view, playback, and event notifications can be directly managed in NUCLEUS as well.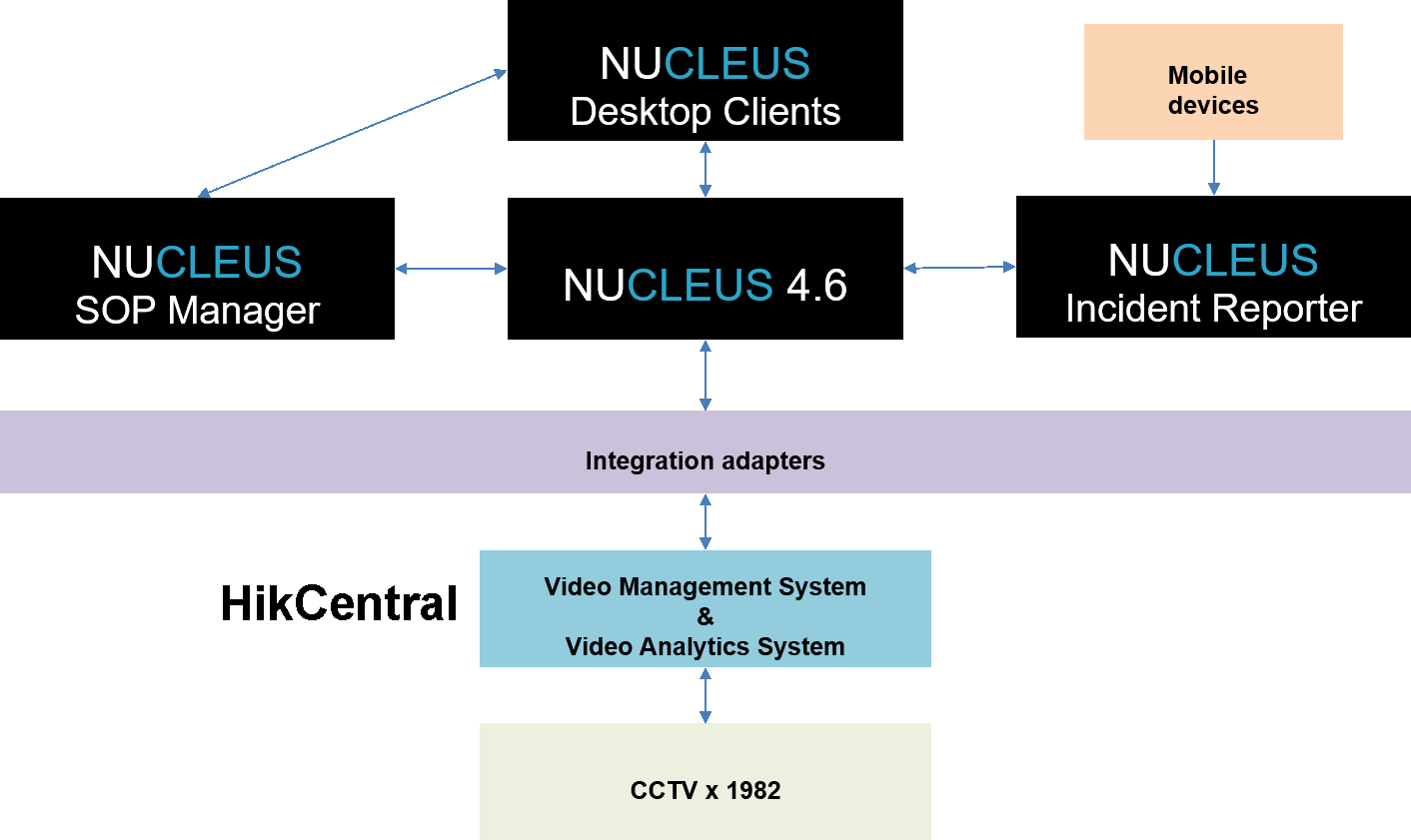 Technical Details
Partner Product Name: Nucleus
Partner Product Version: NUCLEUS 4.6
Hikvision Product Models and Firmware Versions: HikCentral Enterprise (1.0)
Integration Protocol: HikCentral Enterprise OpenAPI
Availability
Regions: Asia
Languages: English, Chinese (Simplified)
About G Element Pte Ltd
Founded in 2001 and headquartered in Singapore, G Element is a software company developing 3D digital twin platform solutions for smart buildings and cities. As buildings become more "live" with sensors and real-time sub-systems, it is also increasingly more difficult to assess, visualize and make informed decisions on the real-time data points that are distributed across tens of building floors and across multiple buildings in a precinct or district. Thus, at G Element, we make it our mission to help our users understand such immense information effectively in real-time to obtain open, unified awareness of their "live" smart building/city situations for informed decision-making. To that end, we have developed an award-winning 3D command center platform NUCLEUS that combines interactive 3D building/city models with real-time sensor data which is represented in a digital twin, to continually provide managers with total awareness and incident management of live situations in their buildings/cities.

Website:
https://www.gelement.com/