User Benefits
Provide Real Time Awareness of Device Statuses and Faults

Optimize the Resources Spent for Maintenance and Operations

Decrease Downtime of a Device

Decrease the Device Cost by Optimizing the Asset Lifecycle

Strategic and Operational Decision Support Mechanism
Key Features
Provides Corrective, Preventive, Predictive and Proactive Maintenance

Enterprise Asset Management (EAM) & Asset Performance Management (APM)

AI Supported Smart Rules and Automated Work Orders

Scheduling and Following Up Site Operations

Integration Capabilities with Different Technologies
Solution Architecture
BlueOperation BACnet IoT Gateway(GW) module connects with HikCentral in the same network through the BACnet protocol. All events and device faults are listened by BlueOperation GW and get reported to the cloud. While Hikvision end devices collaborate with each other by event and statuses, they can also be linked to other building technology systems through BlueOperation.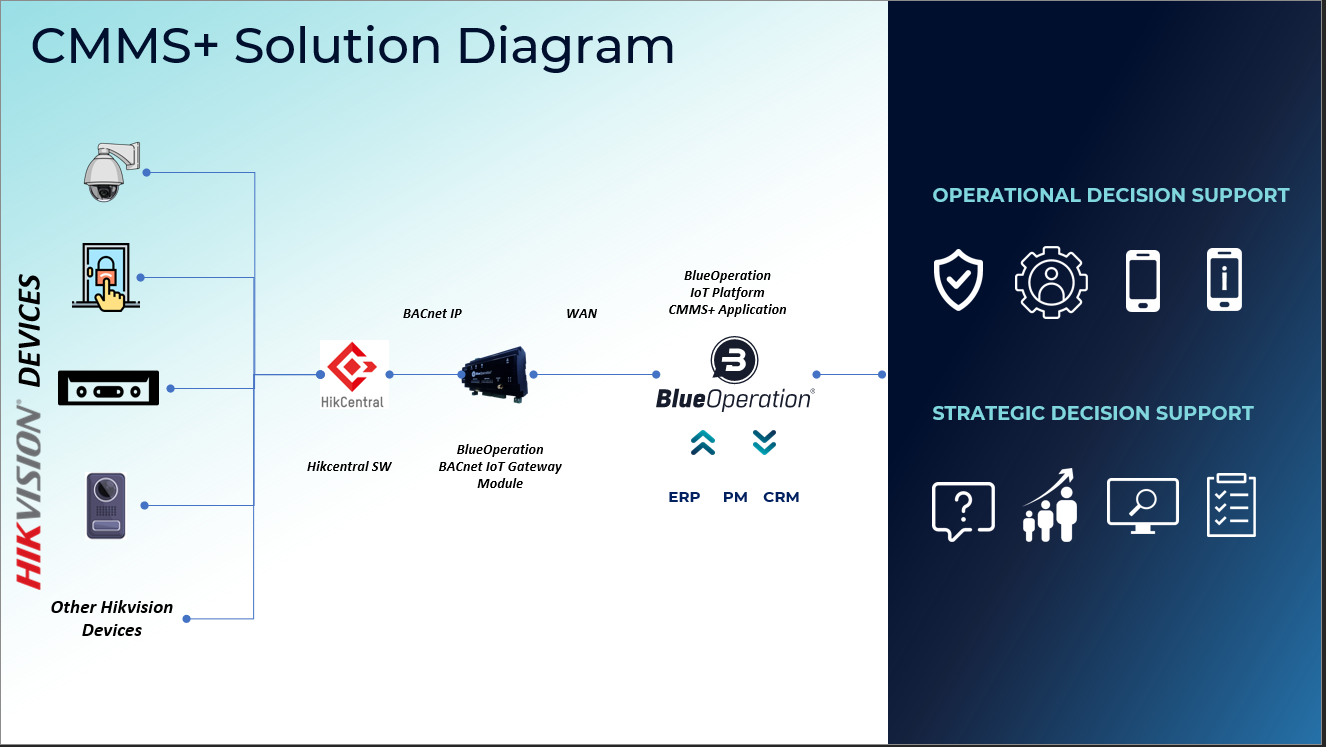 Technical Details
Partner Product Name: BlueOperation
Partner Product Version: V6.2.25.0423
Hikvision Product Models and Firmware Versions: HikCentral Professional (customized version)
Integration Protocol: Other
Click here to learn more about the integration of this solution.
Availability
Regions: Africa, Asia, Europe, Latin America, Middle East & North Africa, North America, Oceania
Languages: English, Turkish
About Argeloji Mühendislik Bilişim ve Dan. Tic. Ltd. Şti.
Argeloji was founded by a team in 2017 with international experience in IoT projects, guided by the vision of providing innovative solutions to the challenges of the business world. As the business world grows more complex, Argeloji crafted solutions that bring your processes into the digital age. This helps make operations smoother and speeds up your path to reaching business goals. Argeloji has created BlueOperation as an IoT platform for company digitalization to shape the future of the business world today. In this journey, BlueOperation commits to standing by the customer side as a business partner, guide, and supporter.

Website:
www.argeloji.com