Solution Description
Unlock an expansive realm of possibilities where smart homes and buildings come to life, powered by Hikvision AI and KNX building automation protocol.
Envision a scenario where the door unlocks and opens and the lights effortlessly adjust to the perfect brightness, thanks to Hikvision's cutting-edge facial recognition technology that recognises the person as they enter.
This Can'nX integration between Hikvision devices and AI for facial recognition opens the door to an ever-expanding array of IoT products, offering a continuously evolving landscape of possibilities.
User Benefits
Integration of Hikvision cameras with Link'nX and KNX/IoT offers centralized control and custom automation rules.

Users benefit from enhanced security, energy efficiency, and remote monitoring capabilities.

The system is scalable and adaptable to accommodate an ever-expanding range of IoT devices.

Customisable notifications provide real-time event awareness.

Multi-device coordination ensures synchronized actions across CCTV cameras, lighting, HVAC, and other smart systems.
Key Features
Seamless integration of Hikvision cameras into the KNX ecosystem

Centralised control and management of a wide range of IP devices

Customisable automation rules for tailored actions involving CCTV cameras and KNX devices

Remote monitoring and control for cameras and connected devices

For use in both residential and commercial environments
Solution Architecture
Hikvision device integration for AI and facial recognition - identifies the person and sends the KNX command for security and building automation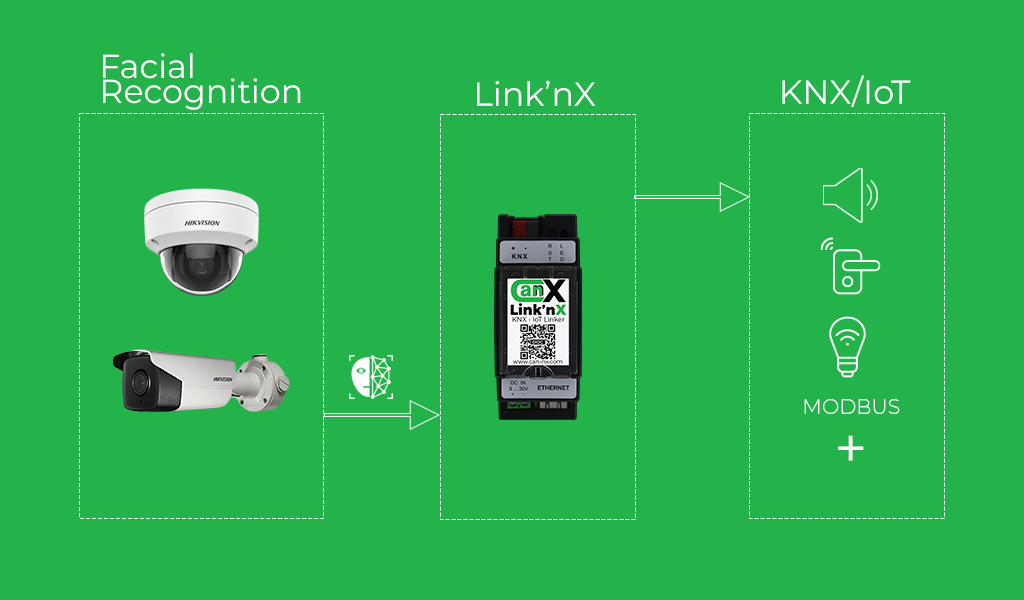 Technical Details
Partner Product Name: Link-nX
Partner Product Version: 1.92
Hikvision Product Models and Firmware Versions: iDS-2CD7XX6G2-IZHSY (-); iDS-2CD7546G0-IZHSY (V5.5.804 build 210831); DS-K1T673DWX (-)
Integration Protocol: ISAPI
Availability
Regions: Africa, Asia, Europe, Latin America, Middle East & North Africa, North America, Oceania
Languages: English, French
About Can'nX
A team of home automation experts after twenty years of experience in home automation and smart building. Can'nX is determined to provide integrators and installers with innovative and easy to install solutions. Can'nX has the ambition to create a range of products close to the needs of end customers. Can'nX is well motivated to aid its partners in developing specific solutions on their demand. With on-site experience in home automation, the team Can'nX developed prototypes that are being tested and fine-tuned each day.

Website:
www.can-nx.com