Solution Description
Tether's ANPR solution improves security, efficiency and service levels by bringing data from all ANPR cameras, such as Hikvision and others, from one or many sites into one secure cloud-based platform, showing the data on an easy-to-use dashboard that is accessible from anywhere. Tether's ANPR solution can be installed remotely, find licence plates in seconds, trigger actions such as opening gates or notifying a booking system, gather and share event footage, know who is accessing the system, and alert to interruptions in the system instantly.
User Benefits
Storage of ANPR data in the cloud for security, ease of collection and management

Reporting – see ANPR vehicle count by day, peak times, week, direction of travel and other data visualisation

Search per licence plate across all different sites, share footage securely and instantly

Enables remote health monitoring and management of ANPR devices and systems

Tether's ANPR solution improves security, efficiency and customer service levels
Key Features
Integrates with barriers, gates and rising bollards

Compatible with any Hikvision ANPR camera

Applications include parking, car park and traffic management, access control, vehicle alerts, police & security

Immediate alerts to the customer or control room of ANPR camera interruptions

Aggregating ANPR data from any number of cameras at any number of sites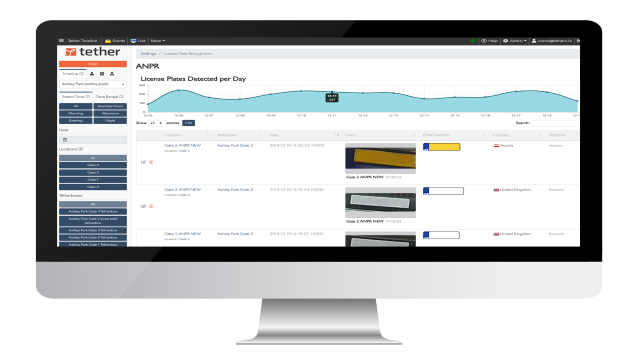 Reference Links
Solution Resources
Technical Details
Partner Product Name: Tether Technology
Supported Firmware of Partner Products: All
Supported Hikvision Product Models: All
Integration Protocol: ISAPI, ONVIF
Availability
Regions: Asia, Europe, Latin America, Middle East & North Africa, North America, Oceania
Languages: English, Spanish, Russian
About Tether Technology Ltd
The gateway to your physical security, bringing Video Surveillance, Alarm Panels + Access Control together. Making it possible to add Hikvision to environments with other vendors, Tethering systems together and making them communicate with each other.